The Florida HOSA Chapters listed below have earned the unique distinction of becoming a "Guardian Chapter" – guarding Florida HOSA's commitment to our core values of Learning, Leadership, Service, and Innovation by valiantly striving to make sure that our organization continues into the future shining brighter than ever before!  The "Guardian Chapter" designation is granted to local chapters who meet or exceed their membership numbers from the 2019 – 2020 academic year.  These exceptional chapters will be recognized in our Instagram/Facebook feed and listed in Florida HOSA newsletters, as well as being posted to this special page on our Florida HOSA website.
During the General Sessions at SLC, they will be also highlighted on the large screens in addition to being distinguished in the SLC Program.
Members of a designated Guardian Chapter can purchase a striking, high polished copper-plated lapel pin for $1.50 each (plus postage) through their advisor to commemorate their championing for Florida HOSA during these unprecedented times.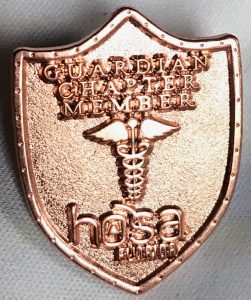 THANK YOU SO MUCH TO OUR DESIGNATED GUARDIAN CHAPTERS!!!!
Astronaut High School
Baker County High School
Bay High School
Bonita Springs High School
Broward College – North Campus
Canterbury School
Cape Coral Technical College
Carrollwood Day School
Charles S. Rushe Middle School
Clay High School
Cocoa Beach Jr./Sr. High School
Columbia High School
Coral Springs Charter School
Crescent City High School
Crestview High School
DeSoto Co. School of Practical Nursing
DeSoto County High School
Dunnellon Middle School
Eastside High School
Falcon Cove Middle School
Flagler Palm Coast High School
Florida Atlantic Univ. – Jupiter Honors
Florida Christian School
Florida Southern College
Fort Meade Middle-Senior High School
Freedom High School
Ft. Pierce Westwood High School
G. Holmes Braddock High School
Hudson High School
Immaculata – La Salle High School
Keystone Heights High School
Lake Nona High School
Lake Region High School
Lawton Chiles High School
Marjory Stoneman Douglas HS
Martha B. King Middle School
Mater Academy Bay
Miami Springs Senior High School
Miami Sunset Sr. High School
Middleton Senior High School
Millennium 6-12 Collegiate Academy
Mosley High School
Mulberry High School
Nease High School
North Marion Middle School
NSU University School
Orlando Science High School
Osceola High School
Oviedo High School
Pine View School
Pinecrest Preparatory Middle High
R. Dan Nolan Middle School
River Ridge High School
Riviera Preparatory School
Sch. for Adv. Studies-Kendall Campus
Seabreeze High School
Somerset Academy (Pembroke Pines)
Somerset Academy Charter High
Somerset Prep Academy Homestead
South Broward High School
Southwest Miami Senior High School
Terrace Community Middle School
The Villages Charter High School
Traviss Technical College
Vanguard High School
Wendell Krinn Technical High School
Wharton High School
Wildwood Middle High School
William T. McFatter Technical HS
Winter Haven High School